Harvard's The American Repertory Theater and Punchdrunk are performing Sleep No More, a hyperdrama rendition of Macbeth with a creepy, Hitchcock feel.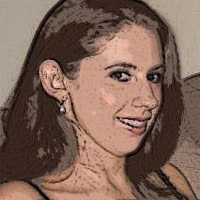 I was recently able to attend, courtesy of the ART, and it was truly one of the most memorable theater experiences I've ever had. I had never been to a hyperdrama before, but I was familiar with the concept and, having a fair amount of experience with hypertext, knew that my choices on which characters I decided to follow would influence my experience.
One problem I couldn't figure out was how the audience could watch the action without getting in the way or detracting from the experience. The solution is brilliant: each guest wears a white mask. In the dimly lit rooms, the masks make us seem like spirits gathering around a group of mortals who were only faintly aware of our existence. Though we were asked to be silent, the occasional stifled giggle or whisper between other ghosts added to the ambience. As the action moved down a hall, groups of spirits would break off their exploration of scenery to join the larger group on the move, and as more and more spirits gathered and followed, the action seemed to take on a new sense of foreboding. The experience created by the masks was incredible, like watching a scene from beyond the grave.
I was also struck by the authenticity with which the play space was transformed: smells, temperatures, textures, and sounds brought the experience to life. The choreography was impeccable, and the cast did a wonderful job of helping the audience understand exactly what to do. I may even go back to catch some of the things I missed the first time.
If you're in the Boston area, treat yourself and go see this production! Shows run through January 3, 2010.