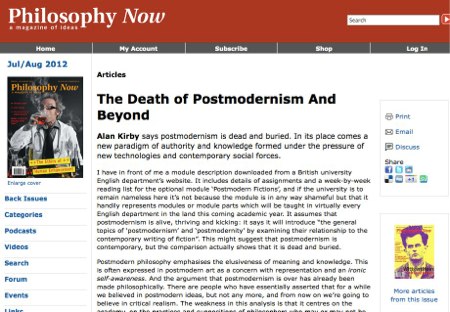 Alan Kirby declares once and for all that "Postmodernism is Dead." Philosophers and popular culture—everyone, it seems, but English professors—have moved on. The postmodern canon is all decades old; it's time for academia to stop calling postmodernism "contemporary."
Most of the undergraduates who will take 'Postmodern Fictions' this year will have been born in 1985 or after, and all but one of the module's primary texts were written before their lifetime. Far from being 'contemporary', these texts were published in another world, before the students were born: The French Lieutenant's Woman, Nights at the Circus, If on a Winter's Night a Traveller, Do Androids Dream of Electric Sheep? (and Blade Runner), White Noise: this is Mum and Dad's culture.
So if contemporary works aren't postmodern, what are they? Some would argue for the New Aesthetic, and while Kirby doesn't cite James Bridle, his assessment places heavy emphasis on interactivity, participatory culture, ephemerality of the material text—ideas which complement the New Aesthetic's fetishization of digital influence (even in analog arts and technologies). Kirby uses the (intentionally?) problematic term "pseudo-modernism" to refer to the products of today's culture.
A pseudo-modern text lasts an exceptionally brief time. Unlike, say, Fawlty Towers, reality TV programmes cannot be repeated in their original form, since the phone-ins cannot be reproduced, and without the possibility of phoning-in they become a different and far less attractive entity […] Radio phone-ins, computer games – their shelf-life is short, they are very soon obsolete. A culture based on these things can have no memory – certainly not the burdensome sense of a preceding cultural inheritance which informed modernism and postmodernism. Non-reproducible and evanescent, pseudo-modernism is thus also amnesiac: these are cultural actions in the present moment with no sense of either past or future.
What Kirby calls "banal" and indicative of "puerile primitivism" are merely the products of an oral culture. He further complicates his arguments by comparing only trite instances of today's popular culture with postmodernism's highest art objects. It might be more fair to compare the postmodern authors with serious hypertext authors, or to compare postmodern film with the more serious video games. Comparing Francis Ford Coppola to "Call of War 17: Heroes of Killing Stuff" for XBox is unfair, especially when Journey or even Bioshock are sitting above it on the bestseller list.
The agency and control that computers have afforded us have undoubtedly changed our approach to all other media. Moreover, our awareness of this fact has in turn changed our relationship to the digital. However, that doesn't mean that these new forms can't produce permanent cultural artifacts, or that we will have no memory of our participatory experiences. My cartridge of Super Mario Bros is easily as permanent as my VHS copy of Clockwork Orange, and surely Shigeru Miyamoto gets as much credit for authorship as Kubrick does, even if the game is more participatory.