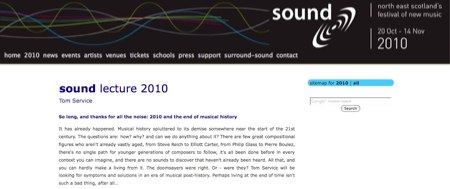 In a lecture last fall, Tom Service explained that the end of music history was upon us. Music has been exhausted: there is nothing new to be discovered, nothing is unique, and on top of all of this, you can't make a living from it. Nobody enjoys listening to "New Music," and the crowd interested in such works has conditioned itself on the fact that the more unpleasant a piece is, the more sophisticated and "modern." Music is at the peak of its own destruction.
The scene: the South Bank Centre, new music's concrete-bound HQ in London; the performers: let's say, the London Sinfonietta; the occasion a concert that includes a new piece by a vaunted young composer. Now, one of the extraordinary things – and the first that would strike any newcomer to the scene – is that the audience which has turned up by for a world premiere by much-feted composer X, touted as one of the big hitters of new music, someone who everyone agrees is important for the potential future of the art-form and therefore, at some distant level, for world culture – is so vanishingly tiny. The numbers of empty chairs far outnumber the bums on seats at the Queen Elizabeth Hall, and there's an atmosphere of - well, there isn't really an atmosphere of anticipation at all, as one of our great composer-conductors shuffles onto the podium to conduct the Sinfonietta, in this supposedly epic premiere. The audience's response to this 20 minute work for one-to-a-part ensemble is as tepid as the composer's bows are awkward; her gestures to the players are charmingly unschooled, and her looks to the audience of a combination of bewilderment and pleading please-like-me naivety.
Well, sort of.
The classical music business is in transition just like every other art. Service urges young composers to forget the old models of composing grand pieces on high-profile commissions and performing them before a bored audience who would rather hear the stuff they know anyway.
My sense is that many young composers now realise that the game is up, that the conventional paths to fame and, er, fortune in contemporary classical culture just aren't worth the candle. Instead, they're better off on their own, not least because their music doesn't fit the line-ups of an orchestra, or even the 1 to a part ensembles of the Sinfonietta, or the Birmingham Contemporary Music Group, or Liverpool's Ensemble 10:10, or Manchester's Psappha – a line-up and repertoire whose time has probably also come, has also become a living history more than something genuinely contemporary