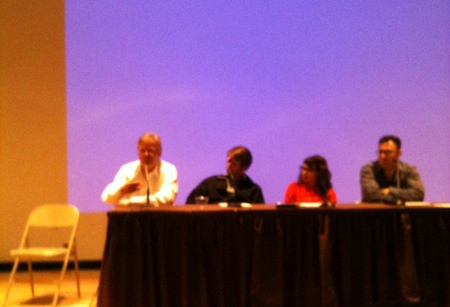 ELO's Archive and Innovate conference last weekend was filled with excitement, criticism, and of course, scholarship.
The weekend began with digital art exhibitions, workshops, and an undergraduate session which was reportedly very successful. Friday saw outstanding talks from Eastgate's Mark Bernstein on Stretchtext; Terry Harpold, who gave a wonderful look at the eBook as a fetishization of the physicality of the book; and an amazing demonstration of Snapdragon AR by Caitlin Fisher, which created breathtaking digital pop-up works . Other talks included Rita Raley on the political in eLit and Scott Rettberg with an anecdotal look at the founding of ELO and impact of Robert Coover.
On Saturday, Astrid Ensslin did a great close reading of Deena Larsen's The Princess Murderer with focus on the word "you" as a diagetic/extradiagetic signifier. Nick Montfort demonstrated Curveship , his dynamic narrative platform, with previews of a couple of upcoming works: Adventures in Style, an interesting cross between Queneau's Exercices de style, and Will Crowther's Adventure . Fox Harrell gave an impressive demonstration of his Living Liberia Batik. And after a day of good talks, we had a huge banquet to honor Robert Coover and to announce new ELO board members and officers (congratulations to all!).
As the conference wound down on Sunday, issues of archiving arose, underlining the fragility of the medium and questioning the role of an archivist; whose job is it to preserve these digital works? Questions of the ELO's commitment to self-reflection and betterment arose at the very end, but after a weekend of heated debate and excited discussion and reminiscence, many were ready to go and attentions fizzled on what could have been a productive discussion.
Overall, though, the conference was very active , and I did think the mixture of artistic productions and scholarly papers worked nicely. Huge thanks to John Cayley and his students for their hard work.