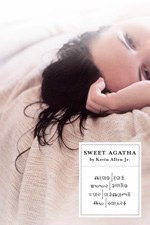 Sweet Agatha is a mystery narrative-building game by Kevin Allen Jr. that allows players to put together the mystery of a girl who vanished. It plays like a cross between a tabletop role playing game and a campfire story session. The game calls for two players. One player reads through an included booklet—her investigative journal—which includes cut-out clue tiles. Another player, The Truth, controls the clues, revealing them during dramatically important points in the story. The Reader and The Truth go back and forth to build the story of Agatha's disappearance.
The very well-written booklet creates a sense of eerie mystery while leaving the scenarios open-ended enough to allow for creative input from both the Reader and The Truth. The images are haunting, and serve as great points of departure for the imagination.
This game would be a great exercise for writers looking to test their narrative development skills, or anyone looking to spend an afternoon building an interesting story.