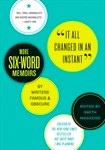 I knew that the day would come when I would rather read something on a screen for reasons other than convenience or portability, but I must admit I was not expecting it to be so soon.
The editors of bestseller Not Quite What I Was Planning: Six-Word Memoirs by Writers Famous and Obscure recently released its anticipated sequel, It All Changed in an Instant. The new book features nano-memoirs from Frank McCourt, Wally Lamb, Isabel Allende, and Amy Tan and celebrities like Sarah Silverman, Neil Patrick Harris, and Chelsea Handler.
With Twitter use at all-time highs and growing interests in flash-fiction, the book is appropriately timed, but I found myself genuinely surprised at it's release in paperback. This actually seems like a book which would be better suited to a screen, and particularly well-suited to something like daily serialization through blogs or Twitter.