The Numberlys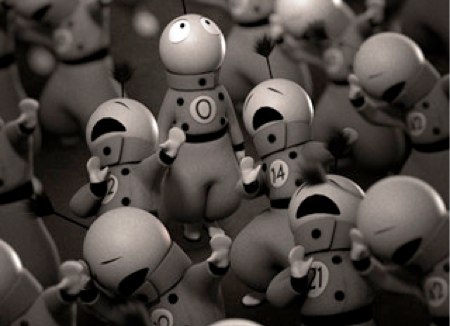 After being very impressed with Moonbot's The Fantastic Flying Books of Mr. Morris Lessmore, I couldn't resist picking up their adorable follow-up, The Numberlys. The story follows five numberlys (pronounced "number-lees") as they strive to bring letters (and by extension colors and fun in general) to a grey world that names everything with numbers. The numberlys even talk to each other in numbers, a clever audio trick that is translated by the text and voiceover. Sci-fi fans will appreciate homages to Metropolis and Flash Gordon.
The opening cut scenes are long. So long, in fact that the first interactive point came just as I was thinking this was not an interactive piece at all, but a short video, and was considering the possibilities of what that meant for content delivery economic models. Once the interactive cuts start appearing though, they are actually more numerous and more interesting than the ones in Morris Lessmore. The puzzles might be a little difficult for children, as the interaction is not always intuitive, but it's clear that Moonbot is heading in the right direction in terms of how they combine interactivity with storytelling.
My only real complaint with the work is the choice of the German stereotyped accent for the voiceover. It's unfortunate, especially as it describes a dystopian society that views everything with zealous efficiency and reduces its citizens to numbers. It's possible that this was an oversight and the accent was chosen to get in pronunciation jokes (like "Z End"), but either way it was not done in good taste.
Still, the work shows all the polish in appearance and score that we saw in Morris Lessmore, and Moonbot is positioning itself to become the Pixar of the app store.