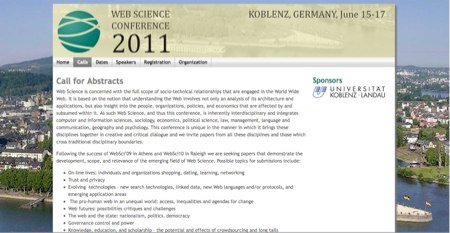 ACM SIGWEB has issued a call for abstracts for the Web Science Conference 2011 . Web science tends to take a broad view of Web concerns, focusing on both its technical and sociological aspects.
Possible submission topics include:
On-line lives: individuals and organizations shopping, dating, learning, networking
Trust and privacy
Evolving  technologies – new search technologies, linked data, new Web languages and/or protocols, and emerging application areas
 The pro-human web in an unequal world: access, inequalities and agendas for change
Web futures: possibilities critiques and challenges
The web and the state: nationalism, politics. democracy
Governance control and power
Knowledge, education, and scholarship – the potential and effects of crowdsourcing and long tails
Intellectual property and the Commons
The dark side of the Web – such as cybercrime, pornography and terrorism
The submission deadline for abstracts is Feb 28, 2011. The conference will held be in Koblenz, Germany from June 15-17, conveniently following ACM Hypertext 2011 in Eindhoven will take place June 6-9 . Submission deadline for full and short papers for Hypertext 2011 is January 29.