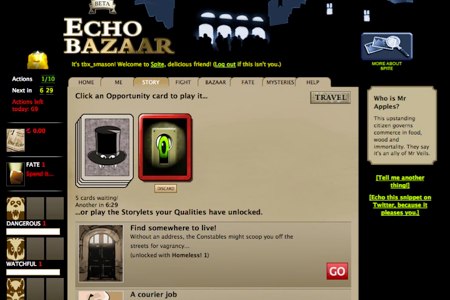 Here at Eastgate, we've been obsessed with Echo Bazaar, a Web-based narrative card game with a Lovecraftian feel. Set in Fallen London, the game combines elements of a collectible card game, role-playing, social network gaming, and narrative.
Though players might want to maximize their character's skills and collect Whispered Secrets or A Cheerful Goldfish, the real fun of the game comes from the surprisingly deep backstory and witty narrative. The game is cleanly written, which makes each spare bit of text work harder. The game helpfully mocks you on occasion and refers to you as its "delicious friend;" what's not to love?
In related news, online games have finally passed email as the second-biggest online time-sink . Social networking occupies the lead position.