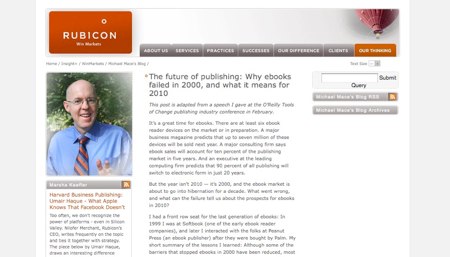 It seems that many people have been looking back to predict the future of eBooks: the transition from radio to television, from horses to cars. But one place we haven't gone is back to the year 2000, when eBooks were predicted to take off. Why didn't they flourish then, and why, ten years later, are we back to the same place?
In a recent article, Michael Mace explains why eBooks didn't take off then, and why they won't take off as quickly as some predict.
There were not enough eBooks to make it worth buying a reader.
eBooks were too expensive, especially given that many readers value content differently than the publishers expect.
The hardware form factor was wrong.
Periodicals weren't ready to make the digital leap.
Poor marketing: marketers overvalued aspects of products that readers simply didn't care about.
Mace notes that a lot of these problems still exist in some ways today, including the central issue of price. And since books are not "broken," he suspects that they will not vanish soon. With the rise of tablet computing, areas of opportunity do exist in places like the short-story and periodical sectors, places that seem better-suited to digital form.