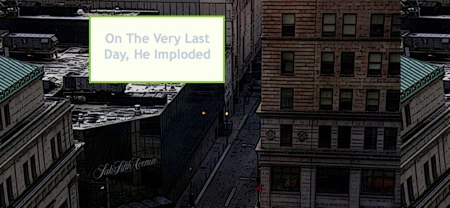 Susan Gibb reports back from the Tunxis Art Marathon where, bleary-eyed and high on pancakes, artists worked for 24 hours straight. Gibb notes that by the end of her stay she was "feeling a bit grumpy," but she was able to finish a new hypertext fiction, On the Very Last Day, He Imploded.
Steve Ersinghaus also writes on the ordeal, revealing how these sprints can be beneficial, despite placing writers outside of their comfort zone.
I really had to squint, but, interestingly, I didn't solve the real problems until 3:30 AM, when I started to drag and say, "Oh my god it's only 3:30." It was at this time that I should have gone into the new media lab and cranked up HL2 on the PS3 system and chilled some. Next year I'll be better prepared.