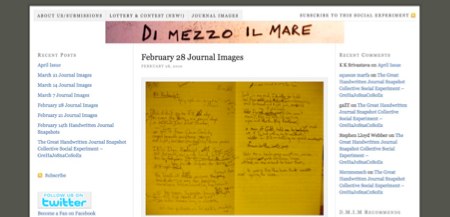 Perhaps rooted in anxiety over the digitization of the page, I've noticed an increasing trend toward the veneration of the physical page. The idea of carrying a paper notebook with you now feels romantic, and it makes what you have to say feel more important when it's hand-written in a leather-bound codex.
Di Mezzo Il Mare focuses on the visual appeal of the written page. In addition to poetry and other reader-generated content, the new online journal offers images of hand-written notes and page-art ranging from chicken-scratched notes to doodles in the margin to elaborate notebooks of talented artists.
In the past, there has been literature on the relation of handwriting to psychological state and identification with the self, and perhaps people fear losing that individuality. Whatever the reason, I find myself in a frustrating tug-of-war between wanting to write beautiful things in a beautiful book and the frustration of that apparatus not being able to capture my thoughts as quickly as I can think them.